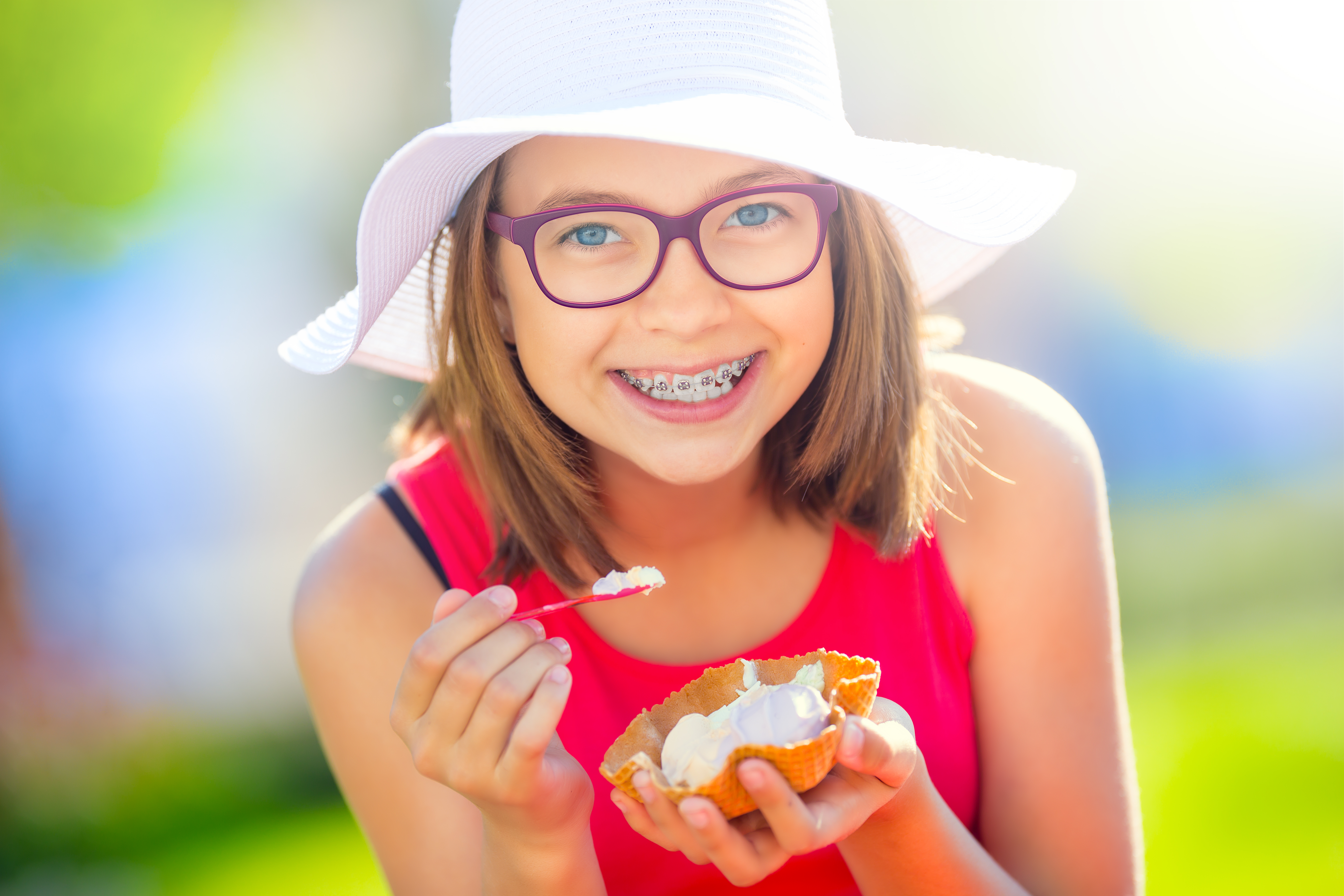 The next stage of your smile starts here! At Coastal Family Orthodontics, our Charleston orthodontists are here to help guide your smile journey through expert orthodontic care. Traditional metal braces are the most common form of orthodontic treatment and consist of metal brackets, bands, and wires to straighten your teeth and create the smile of your dreams.
Benefits of Metal Braces for Your Orthodontic Treatment
Your orthodontist determines the best treatment for your smile based on your individualized treatment plan. There are many benefits to traditional metal braces that will help you achieve a straight smile that leads to healthy smiles for a lifetime.
They may fix more issues: Since your metal braces are not removable, they are working around the clock to straighten your smile. Traditional metal braces can fix jaw issues, bite misalignment, and large gaps, as well as rotating or aligning your teeth to achieve your best smile.
They can cut down on treatment time: Opting for traditional metal braces may result in a quicker treatment time based on your smile needs. For more severe orthodontic needs, metal braces may be able to resolve orthodontic issues more quickly and effectively than other treatment options.
They may be more affordable: Depending on your needs, traditional braces can be more affordable.
How Do Braces Work to Straighten Your Teeth?
There are a few key pieces that make up metal braces, and they all play an important role in straightening your teeth and giving you a new, beautiful smile.
Archwire: The archwire is tied to each bracket and creates force to move teeth into proper alignment.
Brackets: Brackets are connected to the bands, or directly bonded on the teeth, to hold the archwire in place.
Metal band: The band is the cemented ring of metal that wraps around the tooth.
Elastic hooks & rubber bands: Elastic hooks are used to attach rubber bands, which help move teeth toward their final position.
Ligature: The archwire is held to each bracket with a ligature, which can be either a tiny piece of elastic or a twisted wire. Often, the ligatures come in fun colors so you can personalize your smile at every visit.
The archwires, brackets, metal and rubber bands, and ligatures all work together to straighten your teeth. Based on your treatment plan, each of these pieces will be adjusted by your orthodontist at each adjustment appointment.
Most likely, your braces will be placed on the lower and upper arches of your teeth. When your braces are adjusted and tightened, it allows your teeth to be rotated appropriately, gaps to be closed, and your bite to be aligned.
How Long Will I Have Braces For?
When you schedule your complimentary consultation, your orthodontist will develop an action plan for your length of treatment. On average, orthodontic treatment with traditional metal brackets takes about two years, but treatment time varies from smile to smile. Your age, facial structure, and dental hygiene can all have an effect on your overall treatment time.
Tips for Taking Care of Your Braces
Taking great care of your smile during orthodontic treatment is the best way to achieve a new, beautiful smile quickly and effectively.
Enjoy braces-friendly foods: To avoid getting food stuck in your braces, eat foods that are friendly to your braces. Avoid foods such as chewy caramels, hard candy, and crunchy foods. Biting into whole fruits and vegetables may also damage brackets or wires. Cut whole fruits and vegetables into bite sized pieces to easily chew.
Brush and floss regularly: Optimal oral hygiene is key to taking care of your braces. Maintain a proper brushing schedule of twice a day and floss at least once a day. We recommend carrying a toothbrush with you when you're on the go to help you remove food particles from your braces after meals. Be sure to use a fluoridated toothpaste and mouth rinse.
Maintain your appointment schedule: Maintaining a regular treatment schedule with your orthodontist, as well as continuing to visit your dentist, will help your smile stay on track.
Have More Questions About Braces? Contact Coastal Family Orthodontics today!
Our Charleston family orthodontists are here to help you achieve your best smile. If you would like to schedule a complimentary consultation with Coastal Family Orthodontics or you have questions about braces, contact us today!