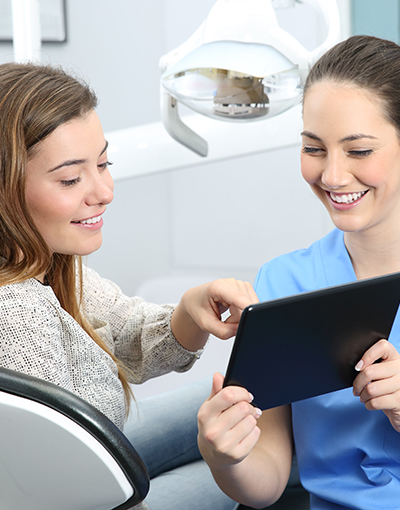 Orthodontic evaluations help our orthodontists get to know your smile and its unique needs! These evaluation appointments allow our team to determine the best option for your smile and help you get acquainted with our office, so you feel relaxed and comfortable at each appointment.
What to Expect
When you come in for your orthodontic evaluation appointment, our team will start by giving you a tour of our office. This will give you a chance to meet the team and get familiar with our space. Your orthodontist will then do a full evaluation of your smile, then discuss any orthodontic issues and describe recommended treatments and appliances, such as retainers and expanders, in detail. Your orthodontist will also provide an estimate for the length of your suggested treatment plan and frequency of necessary appointments. 
Our team will make sure you feel ready and well-equipped for your orthodontic treatment journey. This evaluation typically takes 1 to 2 hours total, and you'll leave excited for the next steps toward the smile of your dreams.
Medical and Dental History Evaluation
Prior to beginning orthodontic treatment, it is important to evaluate your medical and dental history, as well as the current state of your smile. If you have other medical or dental issues, like gum disease, they will need to be resolved before beginning treatment to ensure the successful outcome of a straight, healthy smile.
Other factors, like prescription medication, can also have an effect on your gums. It is important not to exacerbate these issues with fixed appliances or metal brackets, which can further irritate the gums or other dental issues. Our goal is to make sure you have a healthy smile that lasts a lifetime!
Benefits of Early Orthodontic Treatment
Orthodontists recommend bringing your child in for an orthodontic evaluation by age 7. Early orthodontic treatment can resolve tooth problems and jaw growth issues before your child becomes fully grown. Early treatment allows your orthodontist to gently guide your teeth and jaw as they grow and eliminate potential problems from developing further. 
Early orthodontic treatment is helpful for the growth of the jawbone, but also fixes spacing issues to make room for the rest of your child's permanent teeth to come in. Your pediatric dentist may refer your child to an orthodontist if they observe an overbite, underbite, crowded front teeth, missing teeth, or issues due to pacifier use or thumb-sucking. 
If you have other questions or think you or your child may benefit from an orthodontic evaluation, schedule a complimentary consultation at one of our 9 convenient, Charleston-area locations! We'll help you get your smile on the right track toward straight, healthy smiles for life.