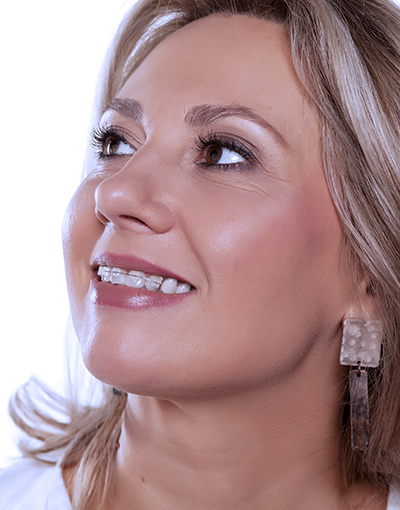 Do you wish braces could be more discreet and cosmetically pleasing? Clear and ceramic braces just might be the right fit for you. Instead of traditional metal brackets, these brackets are made of clear or tooth-colored ceramic material in order to blend in with your smile.
Due to the more fragile material used, clear and ceramic are more brittle and may become more easily stained. Because of this, clear and ceramic braces are more commonly used on older teens and adults. The smile experts at Coastal Family Orthodontics will evaluate your smile needs and determine if clear and ceramic braces are right for you!
Length of Treatment
During your complimentary consultation, your orthodontist will determine the necessary length of treatment for your unique smile needs. For clear and ceramic braces, paying extra attention to your oral care will keep the brackets from breaking and help your treatment stay on track.
How Durable are Ceramic Braces?
Orthodontists are more likely to recommend clear and ceramic braces to older teens and adults because they tend to be more brittle than their traditional metal counterparts. Clear and ceramic brackets are typically larger than metal brackets, so they are often used on front upper teeth only.
They do require more attention when it comes to oral hygiene to ensure they remain clear or tooth-colored and do not become stained. Since they are most commonly used on front upper teeth, it is important to keep them clean, so your smile stays happy and healthy!
Can Ceramic Braces Get Stained?
Clear and ceramic braces are naturally tooth-colored by design, which means they can become stained just like your natural teeth. It is important to maintain proper oral hygiene and avoid dark foods and beverages, such as soda, coffee, red wine, and dark berries.
Also, even though it might be tempting, avoid using a whitening toothpaste. This will keep your teeth from becoming two different shades once your braces are removed. To keep your braces even more clean, ask your orthodontist about using a floss threader to keep food particles from settling into the nooks and crannies. Continuing your use of fluoride toothpaste, brushing twice a day, and flossing daily will help you achieve a clean, straight smile!
Clear & Ceramic Braces vs. Traditional Braces
There are a few distinct differences between clear and ceramic braces and traditional metal braces. Your orthodontist will help you determine what type of braces is best for your smile, but here are a few things to consider:
Clear and ceramic braces are more brittle than metal braces. The brackets may break off more easily, so they require a higher level of care than traditional metal braces.
Clear and ceramic braces are more discreet! Since they are clear or tooth-colored by design, they blend in and are a great aesthetically pleasing option for those who have cosmetic concerns.
Clear and ceramic braces can become stained. Just like your natural teeth, tooth-colored braces can become stained by highly pigmented food and drinks.
Clear and ceramic braces are more commonly recommended for older adults and teens.
If you think clear and ceramic braces might be the right fit for you, schedule a complimentary consultation with Coastal Family Orthodontics today!