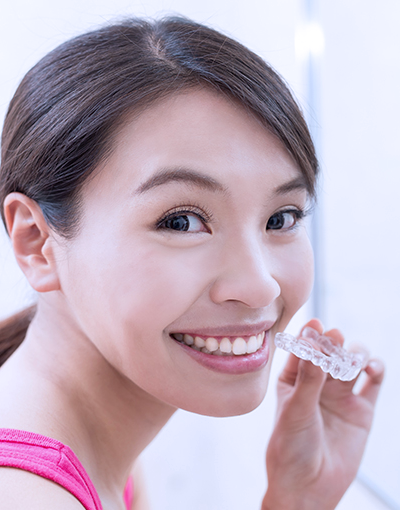 You just got your braces off, and you're thrilled to see your brand-new smile, but you may ask your orthodontist, "Now what?" The answer to that is a retainer! Teeth retainers are designed to maintain your new, straight smile once your orthodontic treatment is complete.
At Coastal Family Orthodontics, our team will be here to celebrate your new smile and help you navigate keeping your smile straight for the rest of your life. We know you worked hard to achieve the smile of your dreams and we're going to help you keep it that way!
What is the Purpose of a Retainer?
The purpose of a teeth retainer is to preserve and stabilize the results of your orthodontic treatment. In order to preserve your results, you will have to commit to wearing a retainer for life. Retainers control potential changes in your tooth position and keep your teeth from reverting back to their post-braces position.
Once your braces are removed, it's important to make sure the surrounding gums, bone, and muscle can adjust to your smile's new position. Your orthodontist will prescribe the frequency of wear needed to maintain your results and provide instructions for proper wear. Even once you've graduated from your orthodontist's instructed retainer wear, nightly retainer wear is the best way to maintain the smile of your dreams for the rest of your life. Only you can keep your new smile straight!
Types of Retainers
Teeth retainers are either fixed or removable, depending on your orthodontist's recommendation, and are custom-made for your new smile. Here are a few things to note about the different types of retainers.
Traditional removable retainers consist of a piece of acrylic that is arched to fit the roof of your mouth and a metal wire that surrounds the front of your teeth.
The metal wires on a traditional removable retainer can be adjusted by your orthodontist to finish treatment or aid minor movement in the front teeth, if necessary.
Removable retainers can also be made of clear plastic, fitting onto the teeth as a clear aligner tray created from a mold of your new smile.
Fixed retainers are simply a wire bonded to the back of your bottom or top front teeth. Typically, fixed retainers are worn for life, or until the cement begins to fail.
Pros and Cons of the Different Types of Retainers
Removable retainers are just that – removable! They can easily be removed for eating and oral hygiene routines. Since they can be easily taken out, removable retainers can get lost. It is important to understand the responsibility that comes with having a removable retainer.
If you don't want to worry about keeping track of your retainer or worrying about how many hours a day you're wearing your retainer, a fixed retainer might be a good fit!
With a fixed retainer, you'll have to pay extra close attention to your dental care routine by making a greater effort to clean around the retainer. It's best to use floss threaders to guide dental floss through the small spaces between your teeth and the retainer. It's important to keep food particles out of your retainer to avoid development of tartar and plaque.
Fixed retainers may also require a clear plastic retainer to prevent the rest of your teeth from moving!
How to Clean Your Retainer
Keeping your retainer clean is important to your dental health! Brush your retainer with a toothbrush and toothpaste after eating and before going to bed. Avoid using hot water on your retainer, as it can potentially warp the shape.
At Coastal Family Orthodontics, we're here to make sure your smile stays in terrific shape, even after you get your braces off. Schedule a complimentary consultation at any of our 9 convenient, Charleston-area locations today!