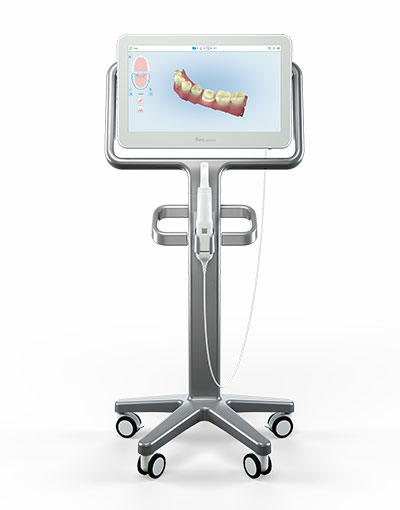 Thanks to the iTero Digital Scanner, beginning your journey to straight smiles is easier than ever. The iTero Digital Scanner is innovative orthodontic technology that digitally scans your teeth prior to treatment instead of using a sticky or uncomfortable mold. This state-of-the-art approach to impressions takes the mess and hassle out of seeing the future of your smile.  ​​
What is iTero 3D Scanner Used for?
The iTero 3D Scanner is used to create detailed images of your teeth and improve the patient's overall experience when beginning their orthodontic treatment journey. This innovative approach to digital scanning is used to receive reliable results quickly.
For Invisalign treatment patients, the iTero 3D Scanner is used to create more comprehensive plans for Invisalign treatment patients than ever before. In addition, it is also used to display a detailed outcome of InvisalignⓇ before your treatment even begins!
How Does the iTero 3D Scanner Work?
The iTero 3D Scanner takes digital images of your smile prior to orthodontic treatment to provide a 3D model of your smile. Your teeth are carefully scanned with a handheld wand that takes thousands of images per second to create a cohesive image of your smile, and you'll see these images in real time on the iTero 3D Scanner's screen before they are sent to a specialized lab for evaluation. These images replace impression molds and help your orthodontist plan the future of your treatment. 
Who Qualifies for an iTero 3D Scan?
Anyone who is looking into orthodontic treatment is eligible for an iTero 3D Scan! If you have questions about whether you qualify for an iTero 3D Scan or you would like to schedule an appointment, contact one of our 9 Charleston-area locations today!