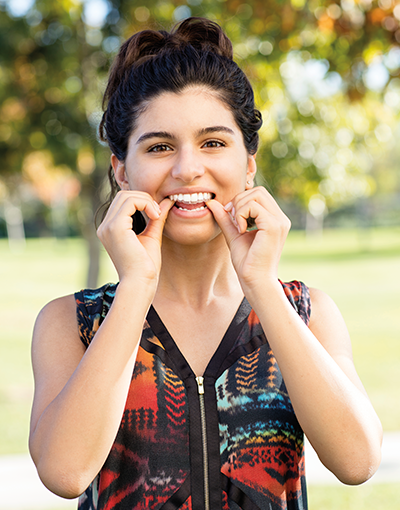 If you're concerned about the appearance of metal brackets and wires, Invisalign treatment might be the right choice to straighten your smile. Invisalign clear aligners are designed to be a discreet alternative to traditional metal braces. These removable, clear aligners allow you to straighten your teeth without the hassle of maneuvering around brackets and wires. Plus, you have no food restrictions because you remove them when you eat! 
At Coastal Family Orthodontics, our smile experts are here to help you achieve the smile of your dreams with the right orthodontic treatment for you. There are many advantages to Invisalign treatment, and we'll help you on your journey to your best smile.
Benefits of Invisalign Treatment for Teens and Adults
InvisalignⓇ is a state-of-the-art orthodontic system that uses a series of clear, plastic aligner trays to move your teeth into their new, straight position. The many benefits of Invisalign treatment have resulted in its increased popularity among teens and adults seeking orthodontic treatment. 
Yes, the aligner trays are actually clear! Invisalign aligners are designed to be almost invisible when worn.
You take out your aligners for meals, so this means no food restrictions. You can eat apples, corn on the cob, and even chewy bagels!
The removable aligners make brushing and flossing easier, since you don't have to worry about brackets and wires being in your way when trying to keep your smile clean.
Being able to take your clear aligners out also makes maintenance easier! Brush the inside and the outside of your aligner trays to keep them clean, and you can also soak them for optimal cleanliness. 
Wearing Invisalign aligners means fewer trips to the orthodontist! You won't have to worry about adjustments or monthly appointments. All you have to do is switch to your next set of aligners in the series and visit your orthodontist every 6 to 8 weeks for progress checks.
Typically, your treatment time is shorter than with traditional metal braces. Many patients complete their Invisalign treatment in approximately 18 months – sometimes less!
Even if your child's back molars have not come in yet, InvisalignⓇ offers a treatment just for teens known as InvisalignⓇ Teen!
How Expensive is Invisalign Compared to Braces?
Good news! The price of Invisalign treatment is typically comparable to the price of traditional metal braces. Every smile is unique, so the price may differ from one person to the next, based on their individual needs and treatment times. Your orthodontist will discuss your needs and duration of treatment before it actually begins. 
We know that each budget is as unique as your needs, so our office works with patients on monthly payment plans and customized financing. Your smile is an investment in yourself, and we'll make sure your smile needs and financial needs are taken care of!
Does Invisalign Hurt?
With any kind of orthodontic treatment, you may feel some mild pain and discomfort while your smile gently moves into its new position. Invisalign treatment consists of a series of clear aligner trays that you change out based on your orthodontist's instructions. Each new set of trays gently moves your smile toward a straighter position, and the pressure of the movement may cause soreness and discomfort. 
This discomfort can easily be alleviated with over-the-counter pain medication such as ibuprofen or acetaminophen. A warm, saltwater rinse can also help relieve discomfort and soothe your gums.
How Do I Get Started?
You can get started on your Invisalign treatment by scheduling a complimentary consultation with us! Your treatment time will begin with one of our talented orthodontists evaluating your smile needs, taking images of your teeth using the iTero Digital Scanner, then beginning your treatment with custom-made aligner trays. 
To schedule a complimentary consultation with one of our 9 convenient Charleston area offices, call us today or request an appointment online. Let's get started on your smile journey today!