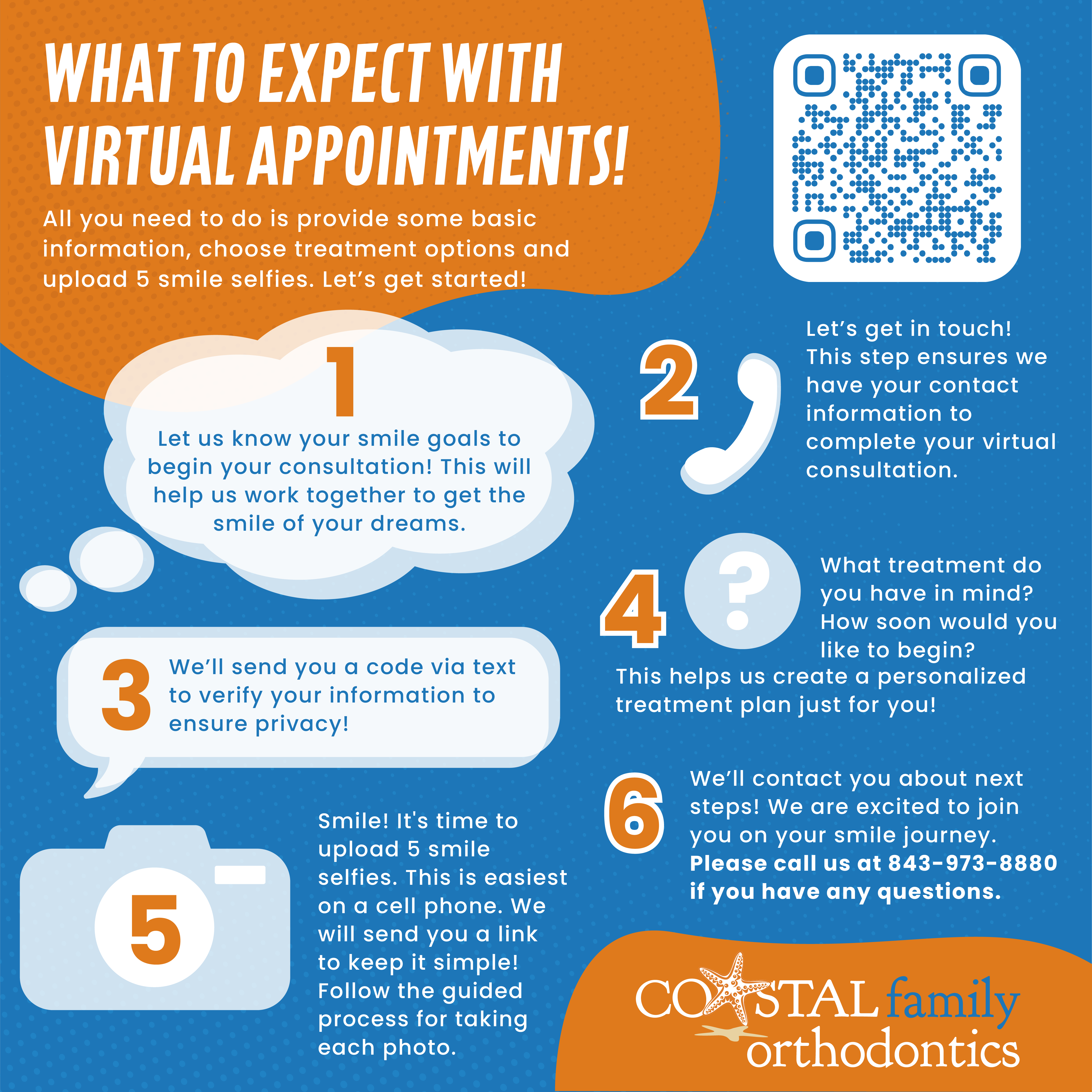 Click the "Start your Virtual Appointment" icon on the lower left part of your screen to begin!
Selfies have become a normal way of showcasing our smiles on social media, but did you know they can also help you achieve the smile of your dreams? Thanks to our new virtual orthodontic consultation software, a few quick selfies can help you begin your smile journey from the comfort of your own home.
What to Expect: Virtual Braces Consultations
Through the virtual consultation, you will answer a series of questions telling us about your dental hygiene habits, your smile goals, or any concerns you may have with your teeth. Once you've created this profile, you will submit five smile selfies. Our doctor will review your profile and photos, then reach out either through texts or a quick video message to explain the next steps of your smile journey!
Here is a video to help you take great smile selfies!
How SmileSnap Works on Our End
At Coastal Family Orthodontics, we want to ensure your smile goals are met in a way that works for you. The virtual consultation process reduces the number of face-to-face appointments and gets your consultation done sooner. Once we've determined treatment and next steps, we will set up your in-person visits and get you on your way to a beautiful smile! We've made getting braces or Invisalign easier than ever before and our award-winning orthodontists are here to make your smile dreams come true.
Together, We Can Achieve the Smile of Your Dreams!
Coastal Family Orthodontics' virtual consultation tool is an ideal solution for your needs. Even from a distance, we can work together on achieving your best smile!
Keeping us in the loop on your smile is easier than ever!
The content on this blog is not intended to be a substitute for professional medical advice, diagnosis, or treatment. Always seek the advice of qualified health providers with questions you may have regarding medical conditions.